Silicon Valley, Disruption and the End of Uncertainty
Geiger, Susi, University College Dublin, susi.geiger@ucd.ie
Journal of Cultural Economy 13:2, 169-184,
DOI: 10.1080/17530350.2019.1684337.
Abstract
This paper reflects on the relationship between high-tech disruption narratives and uncertainty. My main argument is that an economic sociology of the future is incomplete without addressing the 'demonic' or rather eschatological elements apparent in the promissory twin rhetoric of disruption and inevitability that a number of contemporary technology firms employ. The conjuring up of liberatory high-tech futures implicates a political-philosophical perspective of the end game. It utilizes at once the productive power of uncertainty to create visions of 'absolute riches' and societal gain but at the same time narrows these futures down to one inevitable alternative to the status quo. Through the examples of two Silicon Valley disruptor firms, I argue that these eschatological narratives need to be opened to social scientific critique in order to examine their potential societal consequences above and beyond the narrow geographic confines of 'the Valley.'
A tidal wave of inevitable data?
Assetization in the consumer genomics testing industry
Geiger, Susi, University College Dublin, susi.geiger@ucd.ie
Nicole Gross, National College of Ireland
Forthcoming at Business & Society
http://hdl.handle.net/10197/9609
Abstract
We bring together recent discussions on data capitalism and bio-capitalization by studying value flows in consumer genomics firms – an industry at the intersection between healthcare and technology realms. Consumer genomics companies market genomic testing services to consumers as a source of fun, altruism, belonging and knowledge. But by maintaining a multisided or platform business model, these firms also engage in digital capitalism, creating financial profit from data brokerage. This is a precarious balance to strike: If these companies' business models consist of assetizing the pool of genomic data that they assemble, then part of their work has to revolve around obscuring to consumers any uncertainties that would potentially impinge on these processes of assembly. We reflect on the nature of these practices and the market relationships that enable them, and we relate this reflection to debates around alternative market arrangements that would potentially mitigate the extractive tendencies of these and other digital health firms.
"Market Failures and Market Framings: Can a Market be transformed from the inside?"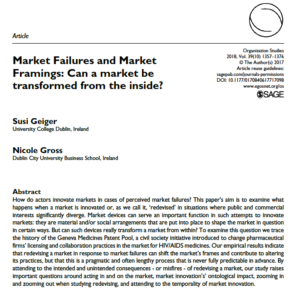 Geiger, Susi and Nicole Gross (2018): Organization Studies v39 (10) pp 1357 – 1376.
Concerned Markets
Economic Ordering for Multiple Values
Edited by Susi Geiger, Associate Professor of Marketing, University College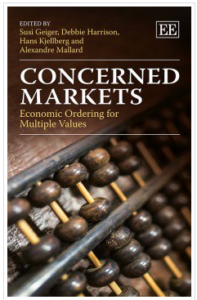 Dublin, Ireland, Debbie Harrison, Associate Professor, BI Norwegian Business School, Norway, Hans Kjellberg, Associate Professor, Stockholm School of Economics, Sweden and Alexandre Mallard, Director of the Centre de Sociologie de l'Innovation, Ecole des Mines ParisTech, France
When political, social, technological and economic interests, values, and perspectives interact, market order and performance become contentious issues of debate. Such 'hot' situations are becoming increasingly common and make for rich sites of research. With expert empirical contributions investigating the organization of such 'concerned' markets, this book is positioned at the centre of the rapidly growing area of interdisciplinary market studies. Markets investigated include those for palm oil, primary health care and functional foods. The authors also examine markets and environmental concerns as well as better market design for those at the bottom of the pyramid.